Il 2022 è stato un anno di transizione. Dopo il famigerato biennio 2020/2021 cosa ci riserverà il 2023 ? Come giocheremo (e soprattutto quanto)? Scopriamolo facendo un resoconto del 2022.
Una ghiotta intervista alla Steve Jackson Games, nella persona del suo mitico fondatore e boss Steve Jackson!!
Kill the monsters! Steal the treasure! Stab your buddy!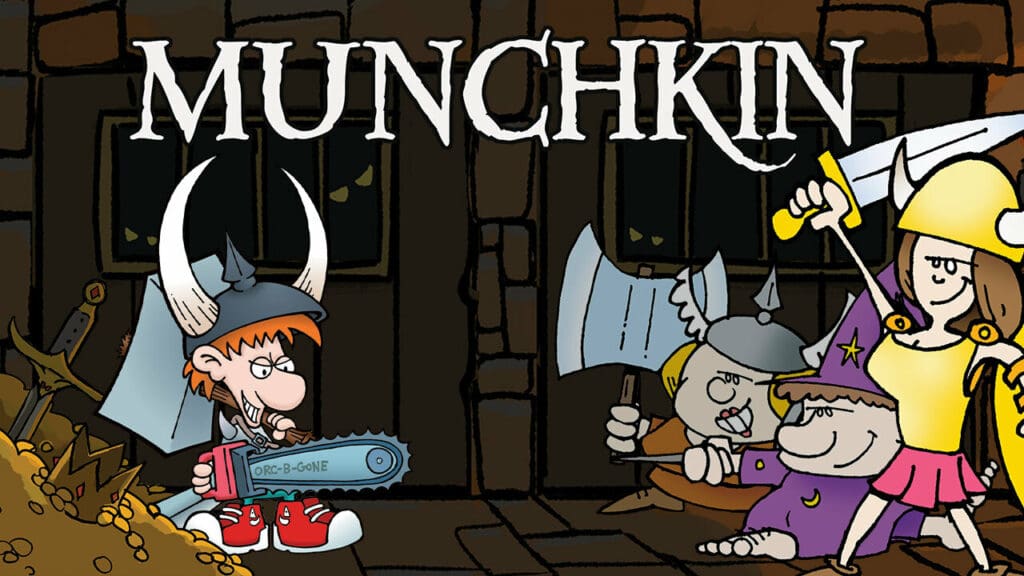 Il pluripremiato game designer americano ci onora ogni anno con le news sui suoi giochi. E se abbiamo ritardato un po' nel pubblicarle … beh è perchè abbiamo perso ore e ore a trastullarci con le versione digitale (su STEAM!!) di Munchkin 🙂
---
1) What board games have Steve Jackson Games published in 2022 ?

Car Wars Sixth Edition (https://carwars.sjgames.com/) made its retail release with two core sets, four miniature sets, and an assortment of accessories like playmats and card packs. This is a total redesign for the classic car combat game Car Wars and features faster, more tactile miniature gameplay.
Hack & Slash (http://www.sjgames.com/hackslash/) is a push-your-luck game of fantasy adventure, where you send your adventurers out on quests to gain rewards or die trying! You start with eight meeples and send them on missions of varying difficulty, and roll dice to complete those quests. If you fail, you can send more to help out, but if you still fail you lose your whole team. It's a fast, family weight game that fits right along with Munchkin, and has spawned it's own expansion and line of promos and accessories.
Munchkin Farkle (https://munchkin.game/products/games/munchkin-farkle/) takes the classic game of Farkle and adds Munchkin-style cards to the mix, with a variety of new abilities and ways impact your friends. It's still a lighthearted dice game at the core, but now you can add an element of "take that" to the game, and the cards also allow us to update the game a bit to the modern era.
Munchkin Babies (https://munchkin.game/products/games/munchkin-babies/) is a new core set that features jokes based on babies, parents, and diapers. This one was a great success and has spawned an expansion, Munchkin Babies 2: Stork Naked.
Steve Jackson's Munchkin Presents Batman (https://munchkin.game/products/games/munchkin-batman/) is one of our most ambitious Munchkin games, featuring a deluxe style board, character cards, and nearly double the number of cards in a normal Munchkin core set. It features the world of DC's Batman, done in a comic style with John Kovalic art. This was a successful Kickstarter and hit retail second half of 2022.
Gathering some Munchkin Mini Expansions together, we had Munchkin Petting Zoo adding cute animals to your game, Munchkin Bosses which contained a new Boss mechanic as an alternate victory condition to add to your game, Munchkin Goats which is pretty self-explanatory (goats!), and Munchkin Turtle Carnage which, you guessed it, adds turtle based jokes and puns,
Another important license, Munchkin Warhammer 40,000, added a new expansion in Rank and Vile, featuring Nurgle, Astra Militarum, and Drukhari factions.(https://munchkin.game/products/games/munchkin-warhammer-40000/munchkin-warhammer-40-000-rank-and-vile/)
The last expansion, and certainly not least, is our newest numbered Munchkin expansion, Munchkin 10: Time Warp (https://munchkin.game/products/games/munchkin/munchkin-10-time-warp/). Numbered expansions are big landmarks for us, and this one features time-traveling through some of histories greatest people, places, and loot.
On the digital front, Munchkin got a release from Dire Wolf Digital on Steam, and now on Android and iOS! It's been one of our most-requested things, and we're excited that we can finally offer a cross-platform digital way to play Munchkin. https://store.steampowered.com/app/1722860/Munchkin_Digital/
We also released a number of Munchkin accessories such as more dice bags, dice, and oversized life counters, which you can see on our 2022 releases page (http://www.sjgames.com/newproducts/nrshipped.html?y=2022)
On the RPG front, we had a number of releases for The Fantasy Trip in particular. This is our old-school RPG and encompasses a number of products, from adventures to playmats, and other accessories. 2022 launched the Quick Quests series which are one-shot supplements intended to add to your TFT campaign, or to just play as a one off. This series has continued to number 9, and shows no sign of slowing down. Hexagram, our zine dedicated to The Fantasy Trip, continued and is now up to issue 11 in 2023! These generally appear on Kickstarter.
The T'Reo School of Martial Magic (https://thefantasytrip.game/products/expansions/the-treo-school-of-martial-magic/) is a more traditional adventure setting based in a magic school where you have to survive to graduate!
2022 also saw our foray into 3-D printed miniatures, with Fantasy Foes http://www.warehouse23.com/products/SJG13-3001 and Hexscape terrain. While Hexscape hasn't gotten a full launch, it is on the horizon, and Fantasy Foes is going to be launching a second set in 2023.
Of course I mentioned the hundreds of dice sets, too many to list, but some highlights would be our Ocean Dice series, Dragon and Skull Dice, and more unique offerings like Phases of the Moon, as well as a number of dice bags to store them in with graphics based on Munchkin, The Fantasy Trip, and much more. We've even continued our dice game book series with Random Fun Generator 2 (http://www.sjgames.com/dice/randomfungenerator/)
Finally we had a couple of Christmas games come out last year, with 12 Dice of Christmas (http://www.sjgames.com/12diceofchristmas/) and Bad Christmas (http://www.sjgames.com/badchristmas/)! These were smaller stocking-stuffer size games that were quick and fun for holiday family time.
2) In which conventions/fairs/events has Steve Jackson Games been present in 2022 ?

2022 was a light year for conventions for us due to covid. We attended GAMA in the spring 2022 which is a retailer focused convention. We also attended Adepticon which focuses on miniatures, so Car Wars Sixth Edition was our focus at the show, as well as Munchkin Warhammer. We did not attend Origins, or Gen Con last year.
3) Can you tell us about the last convention in chronological order you attended? What games did you present ? What was the public response ?

The last convention we attended was PensaCon in Pensacola, Florida: a big, busy event! We did demonstrations of a number of games, including several Car War games with painted miniature cars (one big event was at a downtown brewery, 5 Barrel, that sponsored the game room at the convention). We also did multiple games of Melee (also using miniatures), and one very fun session of Tabloids. The response was everything we could have hoped for: the players had fun and we had lots of spectators.